A new show of paintings by Meg Race
Old Town Gallery at Artisan Nova Scotia, 248 Lincoln Street, Lunenburg, NS
November 24 to Christmas 2018
Opening Reception on Friday, November 30, 2018 4 – 6 pm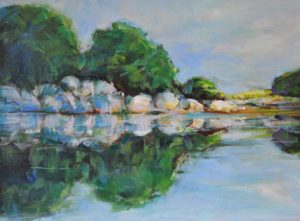 'Upon Reflection'
Reflection is, at its most obvious, an outward manifestation of the physical world – how objects are reflected, or a scene is repeated upside down, on still water or a polished surface. Yet, reflection also refers to an inner, mindful journey. Whether outwardly or inwardly, reflection happens in the presence of light. Without light, we do not 'see' anything at all.
As an artist, I am fluctuating between the world of the literal and physical and the world of the imagined and emotional. I may start with an image of a physical place that I love, but, like a character in a novel, the emerging painting takes on a direction and mood of its own. I am forced to step back and let the process happen. In my work, the medium of oils allows me this play of spontaneity and serendipity. Every trip to my studio is a journey into the unknown and the unknowable, the uncontrollable and the random. Painting in oils is an activity that is ultimately self-confrontational yet strangely freeing.
I invite your participation in viewing these paintings. You may see something of which I have been completely unaware. If so, I'd love to hear your thoughts.
Meg Race
November 2018